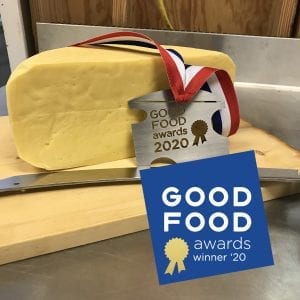 Rinske's Cheesemaking Tutorial
Ever wonder how Rinske DeJong makes her award-winning Farmstead Cheese and Organic Gouda? You will be amazed at how much goes into it.
Ingredients
330

gal

Working Cows Dairy organic grass-fed milk

culture

non-GMO vegetable rennet

salt
Instructions
First thing in the morning, we sanitize the cheesemaking equipment.

This is done while the organic milk is being pasteurized.

Pumping over 330 gallons of pasteurized organic milk. Culture is added and rennet.

Wait for it all to thicken into curds. A "Clean Cut" means we are ready to cut curds.

Cutting curds that make organic cheese.

Curds settling to the bottom of tank before draining some of the whey.

Draining the curds into a vat where we can fill the molds

Resting the cheese overnight.

Organic Gouda goes into a brine bath.

Turning Gouda cheese in the brine bath after 18 hours.

 Drying the finished cheese.