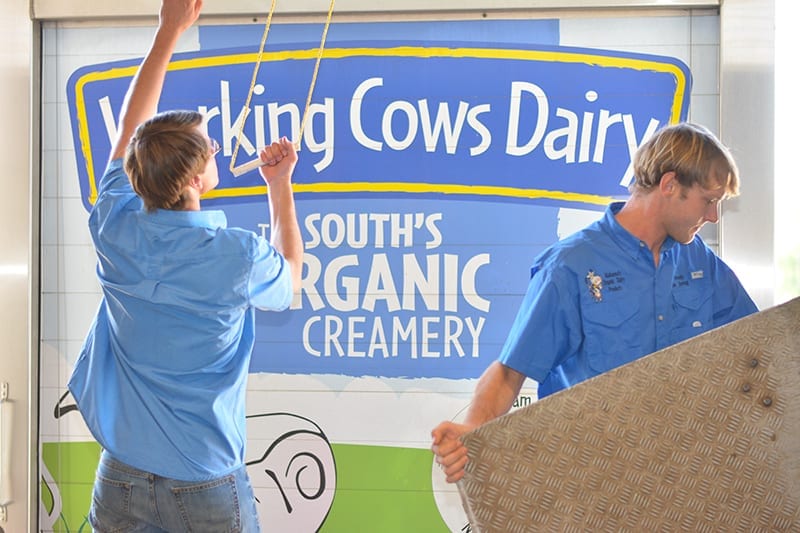 Working Cows Dairy primarily distributes Pasture-Raised & Organic Dairy Products throughout the Southeastern United States. We provide the best grocery stores, cheese shops, cafes & restaurants with top-quality wholesale Grade A Milk, Cream, Butter, Gouda, and our award-winning Farmstead Cheeses.
For more information, please contact us we will be in touch as soon as possible.
Our wholesale dairy products are:
NEVER Homogenized
Low-Temp Vat Pasteurized
Certified Grassfed by AGW
Animal Welfare Approved
100% Pasture-Raised
USDA Organic Certified

Wholesale Organic Milk
Our USDA Organic 2% Milk and Whole Milk are available wholesale in Gallon and Half-Gallon sizes.
Our USDA Organic Pasture-Raised Heavy Cream is available wholesale in Half-Gallon and 8 oz sizes
Our USDA Organic Chocolate Milk is available wholesale in Quarts.
Wholesale Organic Cheeses
Our Award-winning Farmstead Cheeses and Organic Gouda are made from fresh milk of cows whose entire lives are spent outdoors grazing our Certified Organic pastures in southeastern Alabama.
Wholesale Organic Grassfed Butter
Our unsalted Organic Grassfed Butter & Organic Herb Butter are made on our farm and develop a rich, complex flavor.